After our success with our Lite fairing kit we decided to update it with something new ..
The main idea was to change it and make something new from scratch .But the windshield ,KTM OEM Rally part ,is the most beautiful designed rally part with great aerodynamic angle ,super strong ,light weight ,flexible and the most most important extremely high tested from KTM Official on Dakar Rallies for 4 years and from many many many other rally participants around the world .It was so easy for us to design something familiar or something new,but why to do that and not keep the safe and super sexy Rally part ? Also we believe that OEM parts count more, once you decide to go with a kit .
With the windshield which was the main part to work on and make our new updated kit we decide to go also with our high tested MASTECH navigation tower ,so all the front system remains .There is no reason to change something which is great but you can update it and make it greater!
We started working hard on making new side panels and make them look as a part which comes direct from KTM factory ,the main idea was to give more lines and make the panels more "breathable" and same time a part of the bike and not just an aftermarket part which we added on a 690. I can say that it was not easy ,it took us many months until the final design . Lines and easy easy mount was the main things ,so we keep the standard mounting places and our new side panels are plug and play with a direct fit on the bike .
Side panels fit great on the bike with a factory fit ,go over the voltage regulator and with the air intakes we designed the regulator to take more air .The most important, except the best and quick fit, is that comes as one piece instead of 2 pieces per side .
New lower exhaust pipes and new engine guard Carbon Fiber:
I have always been a fan of the lower exhaust systems ,no specific reason if you may wonder why . So the bike went on the exhaust workshop and together we fix the best design for lower exhaust pipes .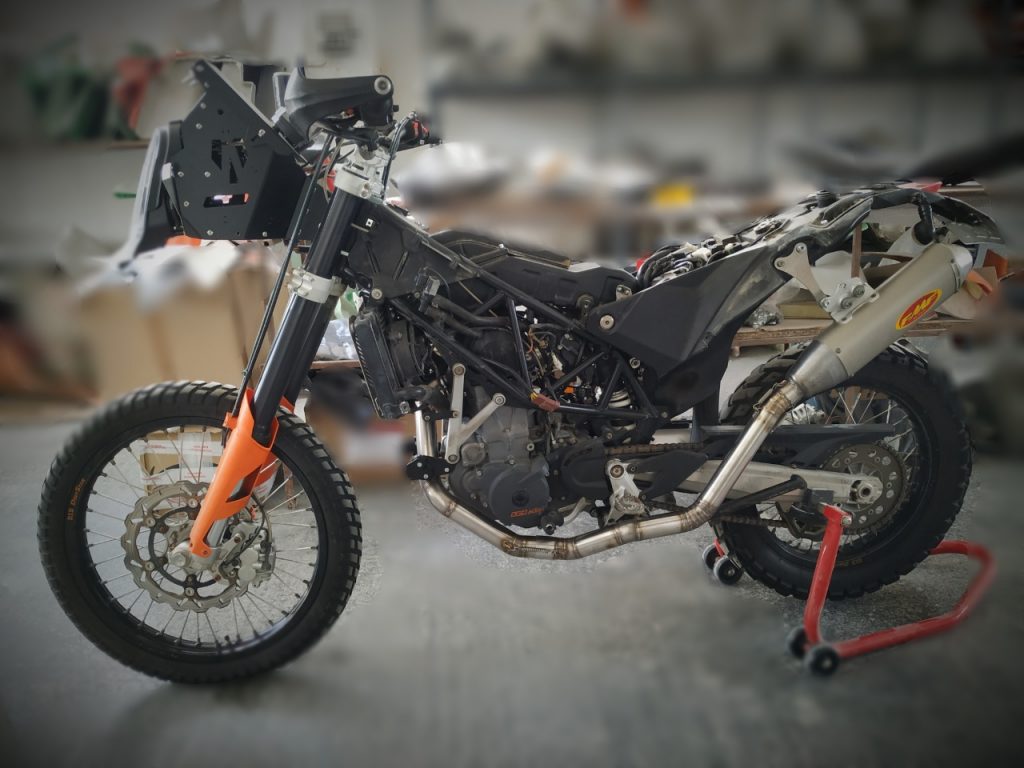 Pipe was made ,the bike had already had an FMF exhaust on and as our order for a rally Akra was on backorder from KTM, we kept the FMF. Exhaust bracket we made is not for standard or other exhausts which work with the standard 2 screws bracket.
Now the pipes are ready but the new engine guard was a must now .. The engine guards from our rally kits do not fit as the pipes are a little bit lower and also different diameter from the rally pipes ,this was a problem .. The material we choose is ofcourse the CF with extra reinforced inside with Kevlar .These fibers with the high quality epoxy resins we use make it the best to protect the exhaust pipe and the whole engine .Here comes and the brackets ,most aftermarket engine guards use the plastic brackets ,we decide to go with also something hard tested .The brackets we use for our rally engine guard are high quality parts which are made by MASTECH .
Engine guard and lower exhaust pipes will run on a small quantity .
Finally we have the new GEN 2 kit ready ,it was time to work on some grafix now ! Grafix designer came and made the new outlines. Designs were made and we had to choose which one we will use on our show bike .
Grafix choosen and our new GEN 2 Kit is ready. We are very proud for our new design which we believe is the best for your KTM 690 Enduro 2008-2018.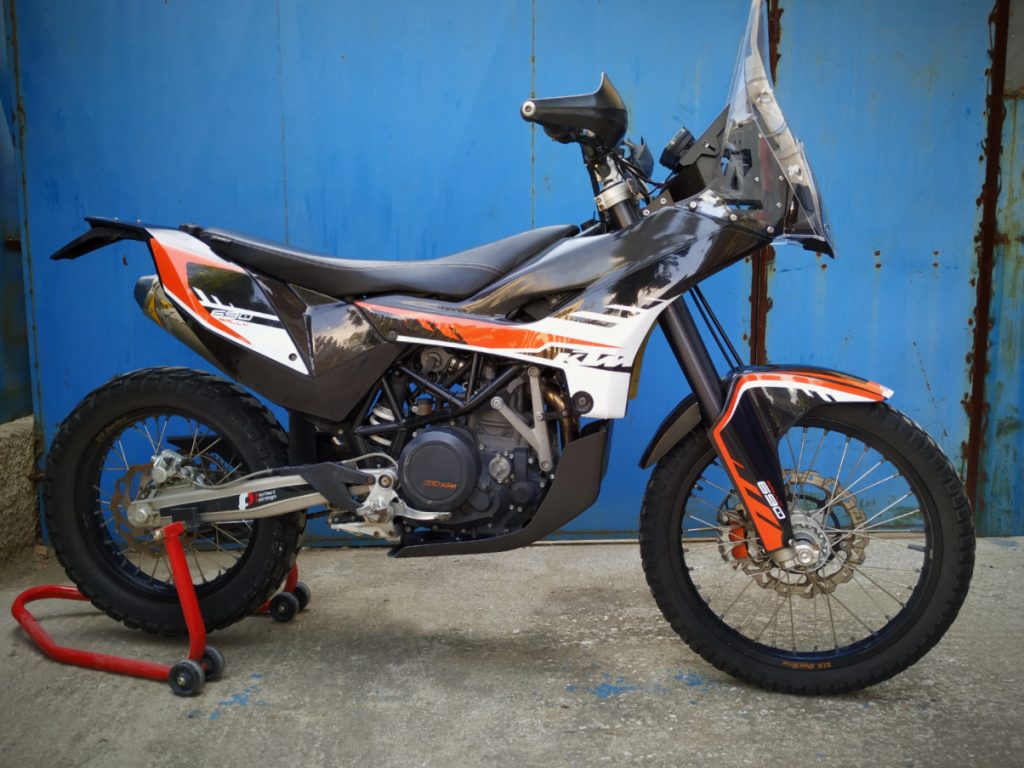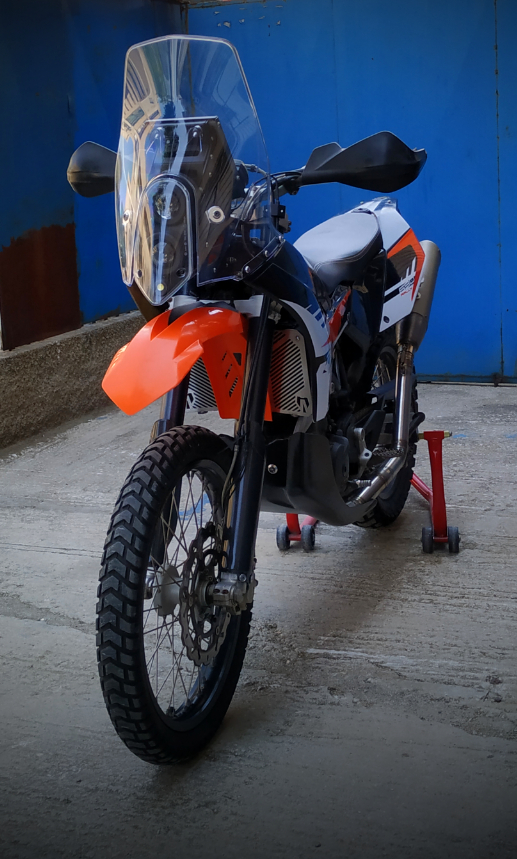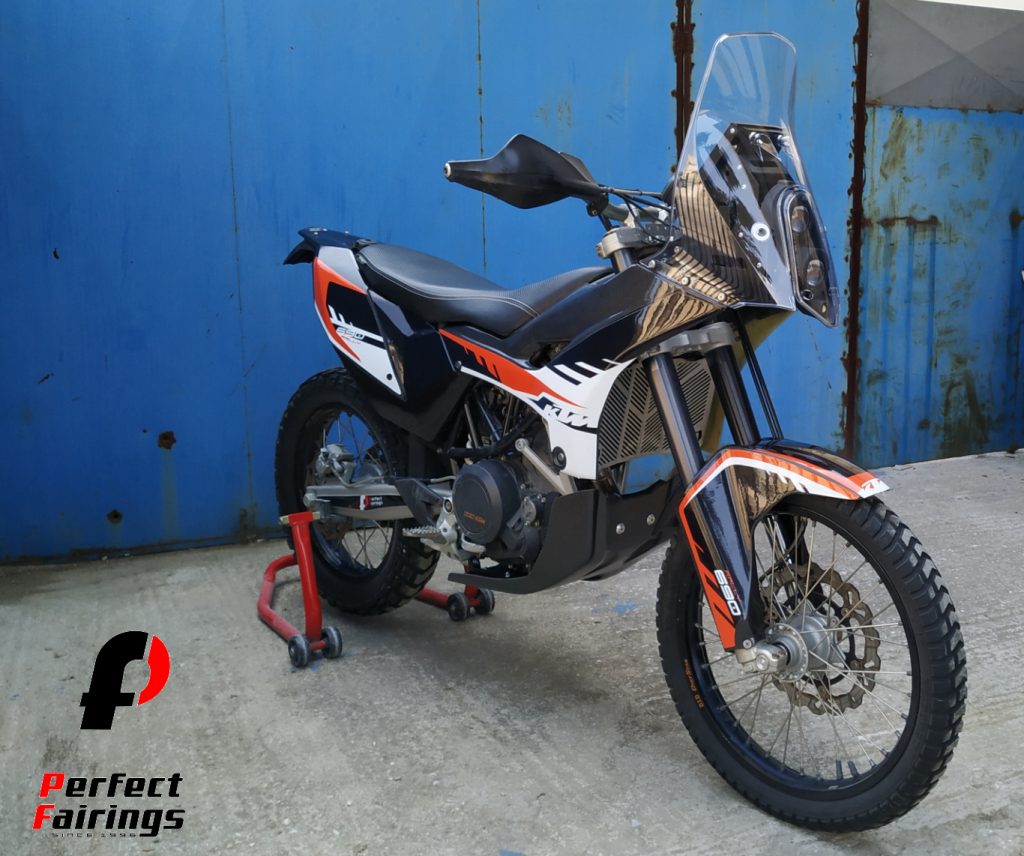 Enjoy